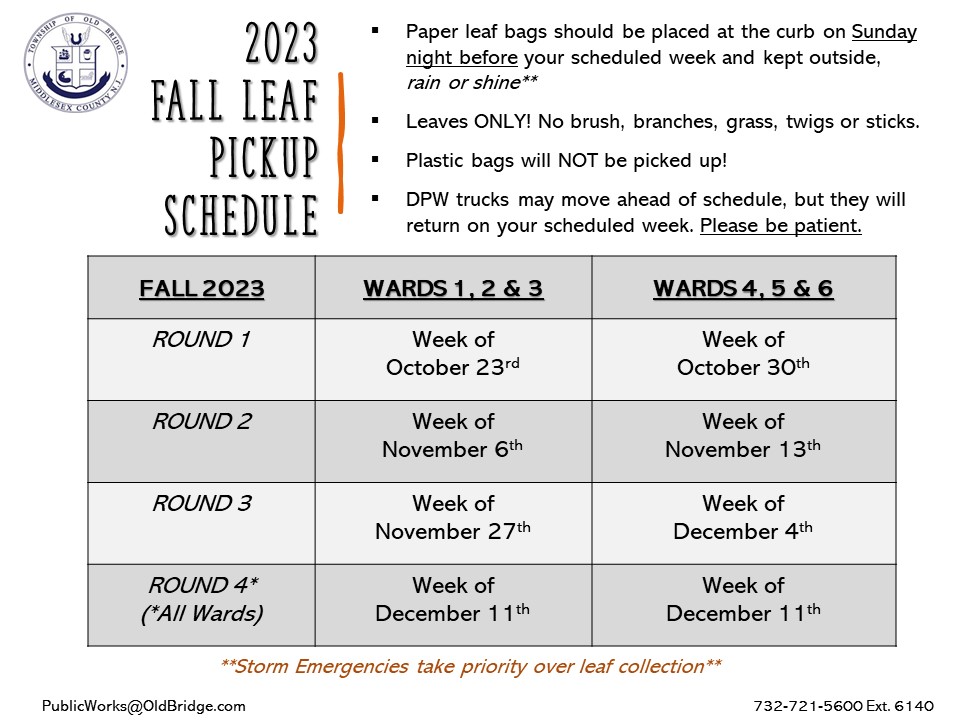 LEAF COLLECTION
Leaves are collected curbside in PAPER bags during the FALL (October - December) and SPRING (April /May) seasons only. There are times when it will take a few days to finish pickup in your Ward, please be patient. Paper bags are available at your local home center or food store. Leaves in plastic bags will NOT be accepted!

Click HERE for the 2023 Fall Leaf Pickup Schedule
BRUSH COLLECTION
Brush & branches are collected by appointment only. Please fill out the form below or email us to make an appointment. Brush pickup typically begins in late-March and ends in October. There is NO residential drop-off facility for leaves or brush. Please be sure to abide by the Middlesex County restrictions when being placed on the brush list as listed below:
-Brush/branches must be bundled and tied up.
-Each bundle cannot exceed 4 ft. in length, 40 lbs or 5 inches in diameter.
-Smaller twigs & sticks should be placed in a bucket or pail.
Schedule a brush & branch pickup
**STORM EMERGENCIES TAKE PRIORITY OVER THE COLLECTION OF BRUSH & LEAVES**