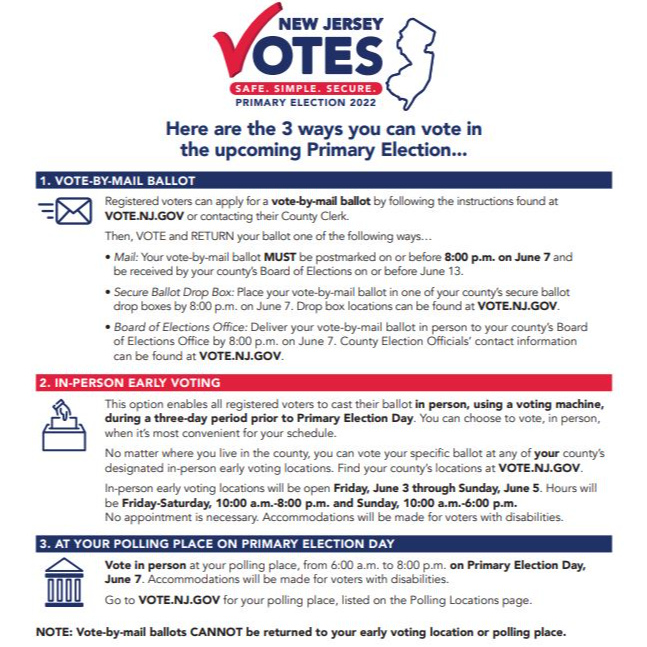 Voter Registration Requirements

To vote in New Jersey, you must:
You must be a citizen of the United States.

You can be 17 years of age to register, but you must be 18 years of age to vote.

You must be a resident of New Jersey and your county at least 30 days prior to election date.

You must not be declared mentally incompetent by a court.

You must not be incarcerated.
Ways to Register to Vote
Registration must occur at least 21 days prior to an election to be eligible to vote in that election.
To check the status of your registration, visit www.njelections.org​
On the left side of the page, click on the NJ Voter Information Portal​.

Then click on the box, "Am I Registered?" at the top of the page.

Fill in your name, and month and year of your birthday and click on SEARCH.

Check the search results button to see your current registration status.

Contact Information

New Jersey Division of Election
CN 304
Trenton, NJ 08625
(609) 292-3671

New Jersey Election Law Enforcement Commission (ELEC)
CN 185
Trenton, NJ 08625-0185
(609) 292-8700

Information on Voting Registration:

Middlesex County Board of Elections
11 Kennedy Blvd.
East Brunswick, NJ 08816
(732) 745-3471

Information on Absentee/Mail-In Ballots

If you have voted by mail-in ballot in the past, but do not wish to do so going forward, you MUST file an opt-out form with the County to be removed from their mail-in ballot listings. The forms can be sent directly to the County at the address on the form, or they can be sent to our office and we will forward them to the County.
Forms are available at the Clerk's office, or you can download Middlesex County Mail In Ballot Opt Out Form here
Middlesex County Clerk's Election Office
PO Box 871
4th Floor Administration Building
New Brunswick, NJ 08903-0871
(732) 745-4463
Track your Mail In Ballot
New Jersey Division of Elections has an online portal where NJ residents may track their mail in ballot.
Ballots deposited in Secure Ballot Drop Box locations or Ballots sent via US Mail may take up to two weeks to show up as "Received" due to historically high volume.