Members
Rosemarie Rivoli
Priti Patel
Matty Tropeano
Brenda Wurst
Coleen Corcoran
Mara O'Kelly
Cathy Adamo
Kevin Borsilli
Lisa Wasko

If you would like to be considered to serve on this voluntary committee, please click on the link below labeled: 'Citizen Leadership Form' and follow the directions
Please note all nine spots are currently filled; however, feel free to submit your application should a spot become vacant .
To contact the committee please email: rrivoli@oldbridge.com or call 732-721-5600 ext 4022
Additional Links
The Township of Old Bridge Cultural Arts Committee shall promote appreciation of the Arts and awareness of community talents and diversity by sponsoring and providing enriching programs, opportunities and events that encourage active participation for the purpose of benefiting all residents.
This committee consists of nine members appointed by the Mayor. The purpose of the committee is to foster and encourage the arts of music, theater, dance, cinema and visual arts and to encourage participation by all citizens of Old Bridge.
The Old Bridge Community Book Club will meet at 3841 Route 9 at the Shoppes of Old Bridge on the last Wednesday of every month.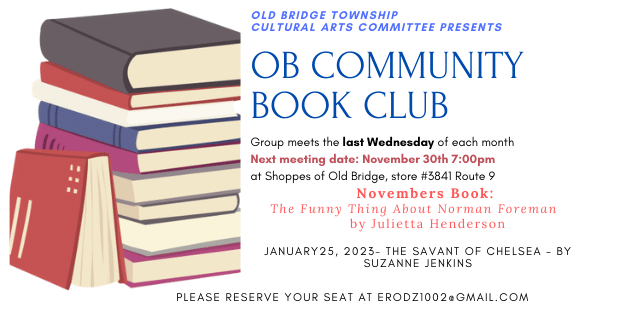 OB ARTS: project EXHIBITION
The Old Bridge Cultural Arts Committee formed a Public/Private Partnership with the Shoppes of Old Bridge . Thanks to their generosity, Store # 3841 will be the temporary home of
OB ARTS: project EXHIBITION
The committee will host a variety of art , educational and community themed exhibitions .
If you are a local artist of any kind of medium , have an organization or a special collection that you would like to be considered for display, please contact the committee by email and send photos of samples of your work.
EXHIBITION HOURS
Thursdays, Fridays and Saturday evenings 7:00pm-9:00pm
Sunday afternoons 3:00pm-6:00pm
Cultural Arts Committee
proudly presents
SUSPENSE
MURDER THROUGH THE LOOKING GLASS
Grant funding for this project has been provided by the
Middlesex County Board of Chosen Freeholders
through a grant from the
Middlesex County Cultural and Arts Trust Fund
Program funded by Middlesex County,
a partner of the
New Jersey State Council on the Arts