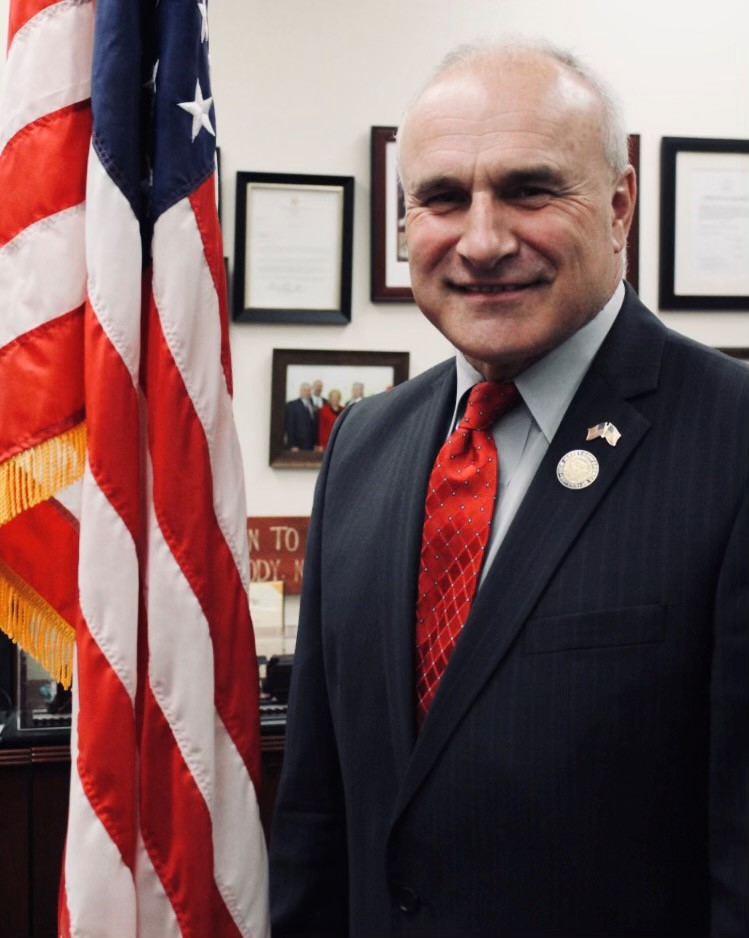 A Message from Mayor Henry
Dear Residents;
Thanksgiving gives us the opportunity to appreciate all that we have and spend time with those who are close to us. As we approach the holiday season, it is important that we try to remember those who need our help and perhaps donate to our local Old Bridge Food Bank. The volunteers at the Food Bank work very hard to collect food and make wonderful baskets to distribute to local families who are not as fortunate as others.
I would like to remind residents that Tuesday, November 2nd is Election Day. Please take the time to exercise your right to vote. For information regarding this year's election, please visit our township website, oldbridge.com
Round one Fall Leaf Pick-up in Wards 5 and 6 will begin the week of November 1st. Please place your leaves in paper bags at the curb the Sunday night before your scheduled week. The bags should remain curbside until they are collected. For additional collection times for your Ward, visit publicworks@oldbridge.com.
The Old Bridge Township Food Bank and the Old Bridge Township Department of Public Works is holding a Coat Drive on November 6th from 9am to 12pm at the Old Bridge Township Recycling Center. This drive thru drop off will accept gently used coats, hats, gloves, and scarves.
Wednesday, November 11th is Veterans Day. This day recognizes the service and sacrifices our veterans made for this country. It is also a day to reflect and say thank you to those veterans for putting their needs aside to protect our freedom.
Our township recycling center is open on Tuesdays and Thursdays 7am -3pm and Saturdays 8am-12pm. Accepted items are; TV's, electronics, computers, metal, mattresses, boy springs, carpeting, motor oil, cooking oil, rechargeable batteries, propane tanks, concrete, bricks, pavers and cinder blocks.
I extend my best wishes to all our residents for a safe, healthy and Happy Thanksgiving.
Mayor Owen Henry was born in Hoboken, New Jersey, and moved to Old Bridge Township in 1961 with his family. Mayor Henry still resides in the same home his parents originally purchased.
As a student growing up in Old Bridge, Mayor Henry attended Voorhees Elementary School, St. Thomas the Apostle School and in 1977 Mayor Henry graduated from Cedar Ridge High School; now known as Old Bridge High School. Mayor Henry went on to earn a Bachelor's degree from Trenton State College (The College of New Jersey) in 1981.
In 1996, Mayor Owen Henry established his own business, Owen Henry Contracting, Inc. The Company specializes in industrial building construction and maintenance, servicing the utility industry throughout the State of New Jersey. The Corporation is affiliated with The Association of Union Contractors and is signatory to the National Maintenance Agreements Policy Committee.
Mayor Owen Henry has volunteered his services to our community in several official roles. Mayor Henry served as an elected member of the Old Bridge Township Board of Education. Mayor Henry was appointed to the Old Bridge Planning Board and was an active member on the Old Bridge Environmental Commission.
Mayor Henry believes it is very important to give back to a community which has given him so much. Privately, over the years, Mayor Henry has offered scholarships to many St. Thomas the Apostle graduates, as a chance to further their catholic school education, to attend a Catholic High School of their choice. The Mayor has contributed his talents fundraising for non-profit local causes, more specifically the Sayreville Association for Brain Injured Children. As a member of the Madison Township Historical Society, Mayor Henry has donated his materials and time for their restoration project.
Mayor Owen Henry has always set aside special time to be with his family and his two children Owen Jr. and Valerie. He is now the proud grandfather of Joseph Owen, who is the apple of his eye. In the Mayor's spare time, one of Mayor Henry's favorite past times is buying and selling Lionel Trains.
Mayor Henry's wonderful Holiday train display in his office has become a beloved tradition for all to enjoy. Many residents just stop in and ask if they can take pictures of his set-up. It is most beautiful, and with four sets of trains running at the same time it is quite an accomplishment that will be remembered for years to come.
Congregation Beth Ohr – 2018
Old Bridge Business Alliance – 2017
The Fillipino American Community – 2017, 2015 & 2012
ICOB Academy – 2014
New Jersey Clean Communities – 2013
Trenton State University for the Distinguished Alumni Award
Cedar Ridge High School – Wall of Fame 2012
Business Leader of the Year – 2008 by the Old Bridge Chamber of Commerce
Top 50 High School Football Players from Old Bridge – 2013