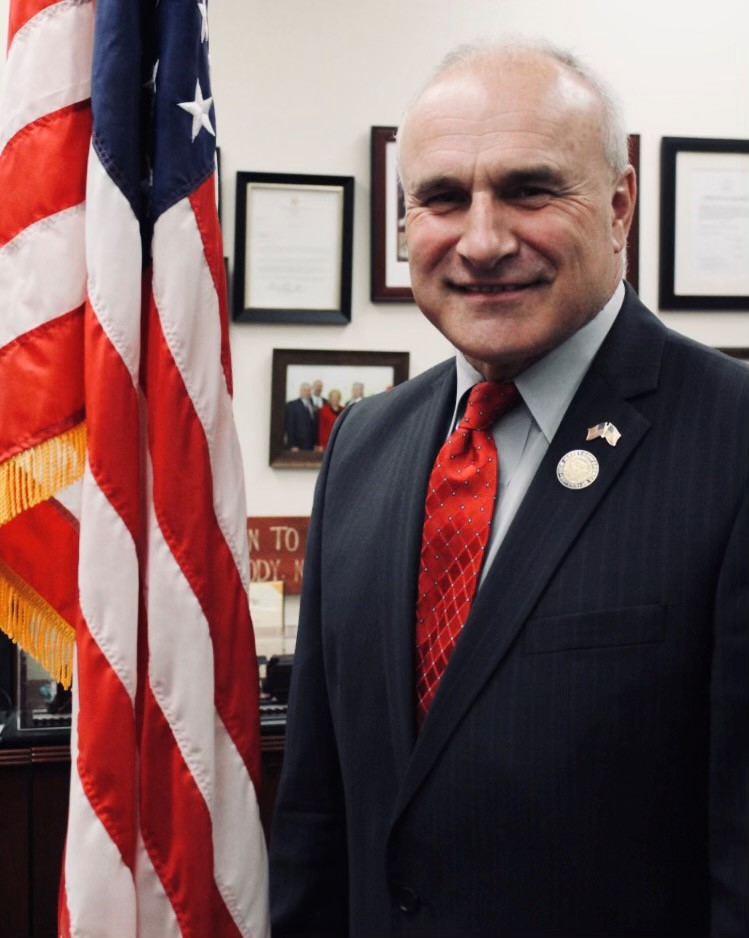 A Message from Mayor Henry
Dear Old Bridge Residents,
Memorial Day is the "unofficial" start of the summer and I am sure that all of our residents are looking forward to firing up the barbeques! It is an important time to acknowledge all of our veterans and active military members of our U.S. Armed Forces. It is our duty to honor, reflect, and remember all those who may have paid the ultimate sacrifice for our freedom.
As we spend our weekends spring cleaning, you may notice volunteers with Mayor Henry's Clean Team clearing litter in our parks and along our roadways. I would like to thank everyone who has participated thus far and worked together to keep Old Bridge clean. If any not-for-profit groups are interested in volunteering, please visit the township's website at OldBridge.com/CleanTeam.
Please note the Township Recycling Center accepts paint and florescent bulbs the 2nd Saturday of each month, as well as a long list of other items that are accepted weekly. Visit OldBridge.com/Recycling for the full list. Additionally, the Department of Public Works offers appliance pick-ups, as well as brush collection by appointment only. Please call 732-721-5600 x6140 to be placed on the list, or email recycling@oldbridge.com.
On Friday, May 27th, we invite all our veterans, VFW Posts members, and residents of Old Bridge to join us in the Memorial Day Wreath Laying Ceremony. This annual event takes place at 10:30 a.m., in the Silver Linings Senior Center at the Old Bridge Municipal Complex, One Old Bridge Plaza. We begin the program by reflecting and remembering all veterans with a few words from our VFW Post Commanders. As Mayor, I will also read the Memorial Day Proclamation and the Old Bridge Seniors are happy to provide a medley of music which is sure to inspire. The ceremony concludes with the VFW members laying the Memorial Day Wreath by our memorial site.
We are also pleased to announce the return of our Memorial Day Parade on Monday, May 30th. The parade will begin at 9:00 a.m. at Memorial School, 11 Ely Avenue, Laurence Harbor, and will conclude with Memorial Day services at Memorial Park, which is located directly across the street from the Laurence Harbor Fire House. It is a wonderful community event for all our residents and families to enjoy. It is also a great opportunity to show your thanks and support for veterans and military personnel who have dedicated their lives for our country. If you or your organization or troop would like to march in the Memorial Day Parade, please contact the Parks and Recreation Department at x4999.
Now that the warm weather is finally arriving, this is also a great time to enjoy all of the wonderful parks and programs the Township has to offer. The 2022 Summer Recreation Program Brochure is available and includes another exciting line up of classes, programs and events for residents of all ages. Registration for half day camp and all of our summer programming starts on May 11th at 6pm. For complete details, please visit our website at oldbridge.com.
I would like to wish all of our wonderful Moms a Happy Mother's Day, and for everyone to have a very healthy and enjoyable start to summer. Continue to stay safe and be well.
Mayor Owen Henry
Mayor Owen Henry was born in Hoboken, New Jersey, and moved to Old Bridge Township in 1961 with his family. Mayor Henry still resides in the same home his parents originally purchased.
As a student growing up in Old Bridge, Mayor Henry attended Voorhees Elementary School, St. Thomas the Apostle School and in 1977 Mayor Henry graduated from Cedar Ridge High School; now known as Old Bridge High School. Mayor Henry went on to earn a Bachelor's degree from Trenton State College (The College of New Jersey) in 1981.
In 1996, Mayor Owen Henry established his own business, Owen Henry Contracting, Inc. The Company specializes in industrial building construction and maintenance, servicing the utility industry throughout the State of New Jersey. The Corporation is affiliated with The Association of Union Contractors and is signatory to the National Maintenance Agreements Policy Committee.
Mayor Owen Henry has volunteered his services to our community in several official roles. Mayor Henry served as an elected member of the Old Bridge Township Board of Education. Mayor Henry was appointed to the Old Bridge Planning Board and was an active member on the Old Bridge Environmental Commission.
Mayor Henry believes it is very important to give back to a community which has given him so much. Privately, over the years, Mayor Henry has offered scholarships to many St. Thomas the Apostle graduates, as a chance to further their catholic school education, to attend a Catholic High School of their choice. The Mayor has contributed his talents fundraising for non-profit local causes, more specifically the Sayreville Association for Brain Injured Children. As a member of the Madison Township Historical Society, Mayor Henry has donated his materials and time for their restoration project.
Mayor Owen Henry has always set aside special time to be with his family and his two children Owen Jr. and Valerie. He is now the proud grandfather of Joseph Owen, who is the apple of his eye. In the Mayor's spare time, one of Mayor Henry's favorite past times is buying and selling Lionel Trains.
Mayor Henry's wonderful Holiday train display in his office has become a beloved tradition for all to enjoy. Many residents just stop in and ask if they can take pictures of his set-up. It is most beautiful, and with four sets of trains running at the same time it is quite an accomplishment that will be remembered for years to come.
Congregation Beth Ohr – 2018
Old Bridge Business Alliance – 2017
The Fillipino American Community – 2017, 2015 & 2012
ICOB Academy – 2014
New Jersey Clean Communities – 2013
Trenton State University for the Distinguished Alumni Award
Cedar Ridge High School – Wall of Fame 2012
Business Leader of the Year – 2008 by the Old Bridge Chamber of Commerce
Top 50 High School Football Players from Old Bridge – 2013