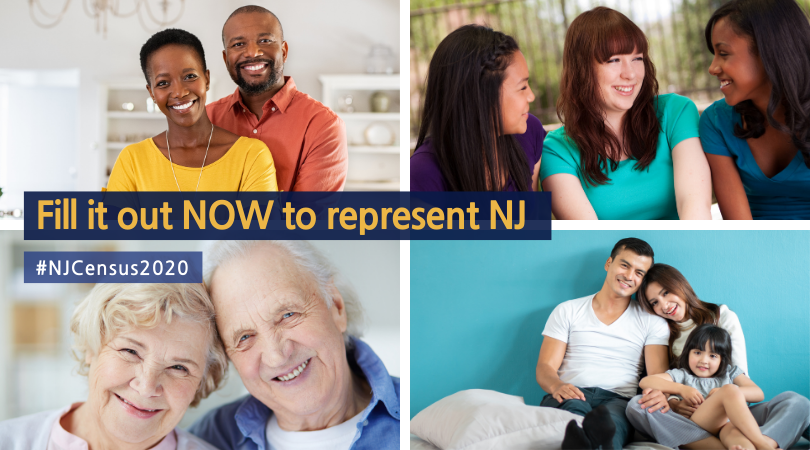 This week (September 14-20), we are celebrating "Represent New Jersey for the Next Decade" Week
This week, our theme is "Represent New Jersey for the Next Decade."

New Jersey's communities are proud, diverse and GROWING – we need to ensure an accurate Census count to capture a snapshot of our communities to ensure they receive fair funding and are fairly and accurately represented by elected officials.

The results of this once-a-decade count determine the number of seats each state has in the House of Representatives. They are also used to draw and re-draw congressional and state legislative districts, based on where populations have increased or decreased.

If NJ's communities are not fully counted, that could cost them political influence as well as other resources.

An undercount could mean losing out on fair and accurate representation and access to all kinds of resources – without a chance to fix the problem for 10 years.

Since Census data informs our political representation, it is imperative that NJ residents fill out the Census and register to vote. The deadline to register to vote in the next election is October 13. Fill out the Census, then, if you are eligible, register to vote here: https://www.state.nj.us/state/elections/voter-registration.shtml

Census data also informs where more than $45 billion in federal funds is distributed each year in New Jersey. Funding can support schools, health care clinics, new roads and bridges, community organizations and more. No matter the size, location or ethnic makeup of your community, it will be affected for the next decade by Census data collected in 2020. YOUR VOICE COUNTS!

The Census is your chance to personally represent New Jersey for the next 10 years!

September 15-October 15 is National Hispanic Heritage Month, which recognizes and celebrates the contributions Americans tracing their roots to Spain, Mexico, Central America, South American and the Spanish-speaking nations of the Caribbean have made to American society and culture.

As of 2019, Hispanics constituted 18.5% of the nation's total population.

New Jersey is one of 12 states with a population of 1 million or more Hispanic residents constituting 19% of the state's population.

Make sure New Jersey's Hispanic and Latino populations are accurately counted so they can represent in New Jersey for the next decade! Use #HispanicHeritageMonth on social media to promote the Census.

Don't forget: Census takers are knocking on doors NOW, across the state, of those households who have not yet responded to the Census. You can eliminate the need for

Census takers to follow up in person by responding to the Census now – online, by phone or by mail.

Share our posts about Representing NJ for the Next Decade or create your own posts about why residents should complete Census for fair and accurate representation.

Complete the Census at 2020CENSUS.GOV or over the phone at 844-330-2020 (English), 844-468-2020 (Spanish) or any of the other language numbers listed at CENSUS.NJ.GOV.

Complete the Census over the phone by calling the Township at 732-721-5600 ext. 2355.