Street sweeping will continue next week in Ward One. Sweeping will begin in Ward Two on Monday, October 3rd.

Old Bridge Day will be tomorrow from 12PM to 5PM here at the Municipal Complex. Come on down to enjoy vendors, games, rides, food trucks and live music! For information on parking and shuttles, please visit oldbridge.com/recreation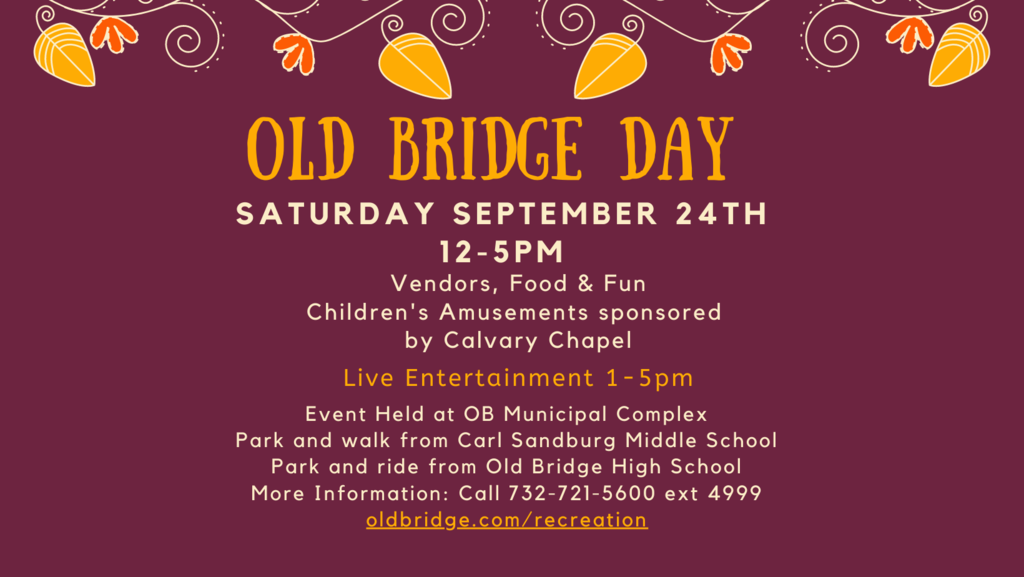 The Old Bridge Recycling Center will be open on Tuesdays & Thursdays from 7AM to 3PM and on Saturdays from 8AM to 12PM. More information at oldbridge.com/recycling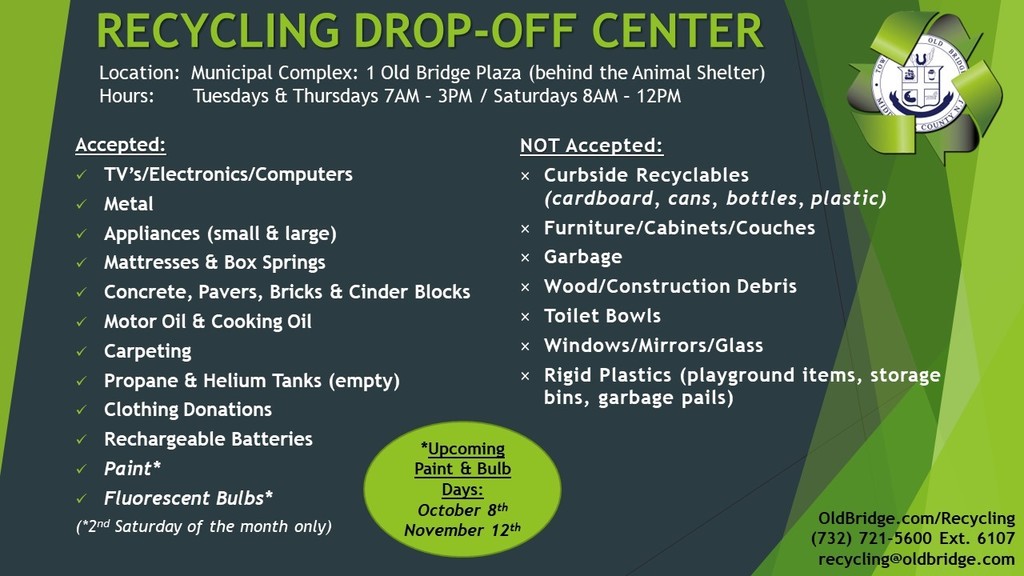 Please flatten and bundle all cardboard before placing it at the curbside for pick up. For more information on our services, please visit oldbridge.com/recycling

Street sweeping will begin in Ward One this week. Please remove any obstructions from the roadways and park in the driveway whenever possible. We appreciate your cooperation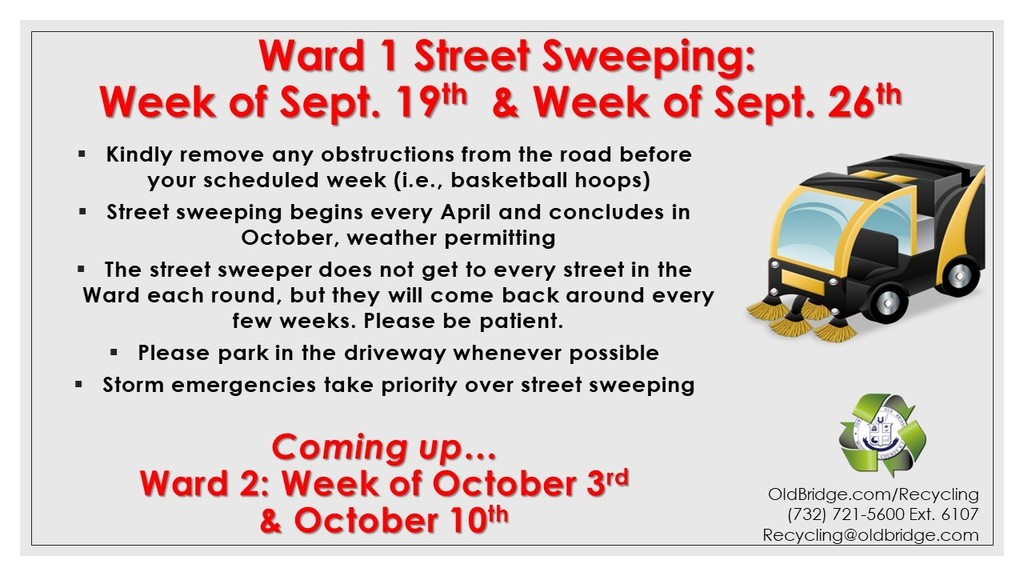 Mayor Owen Henry would like to thank everyone who volunteered with our Clean Team on Saturday, September 17th. Together they cleaned up over 110 bags of garbage and bulk items from our local beaches!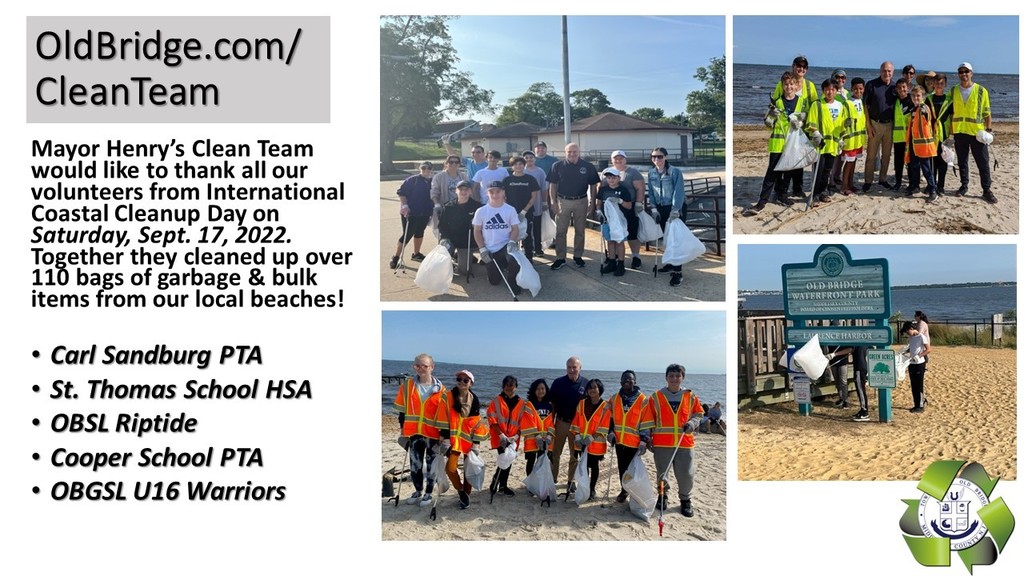 Please place all recycling bins at the curbside the night before your scheduled pickup. More information at oldbridge.com/recycling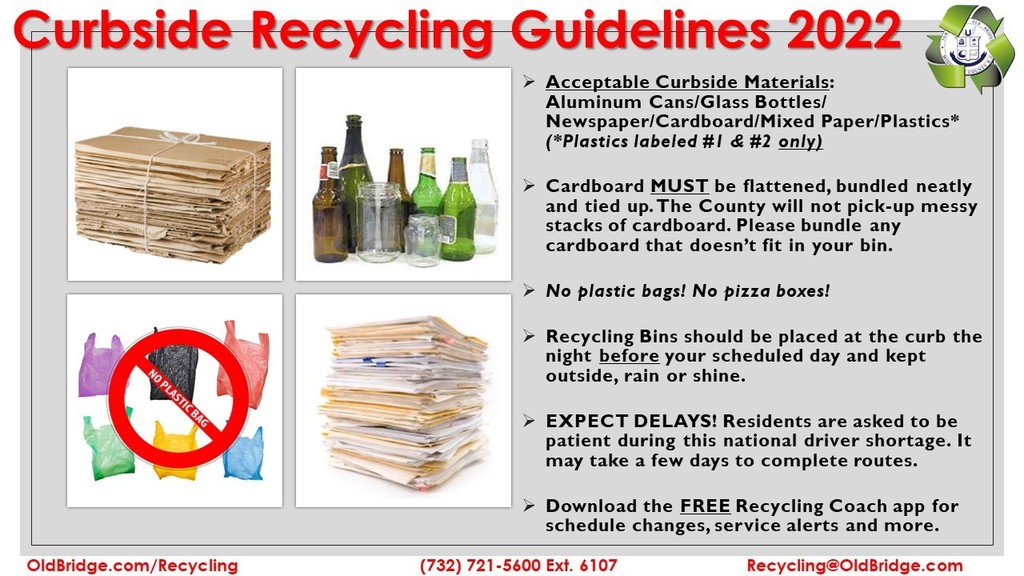 NJ Register Ready allows residents with disabilities and their families, friends, caregivers and associates to provide information to emergency response agencies so responders can better plan to serve them in a disaster or other emergency. Please visit registerready.nj.gov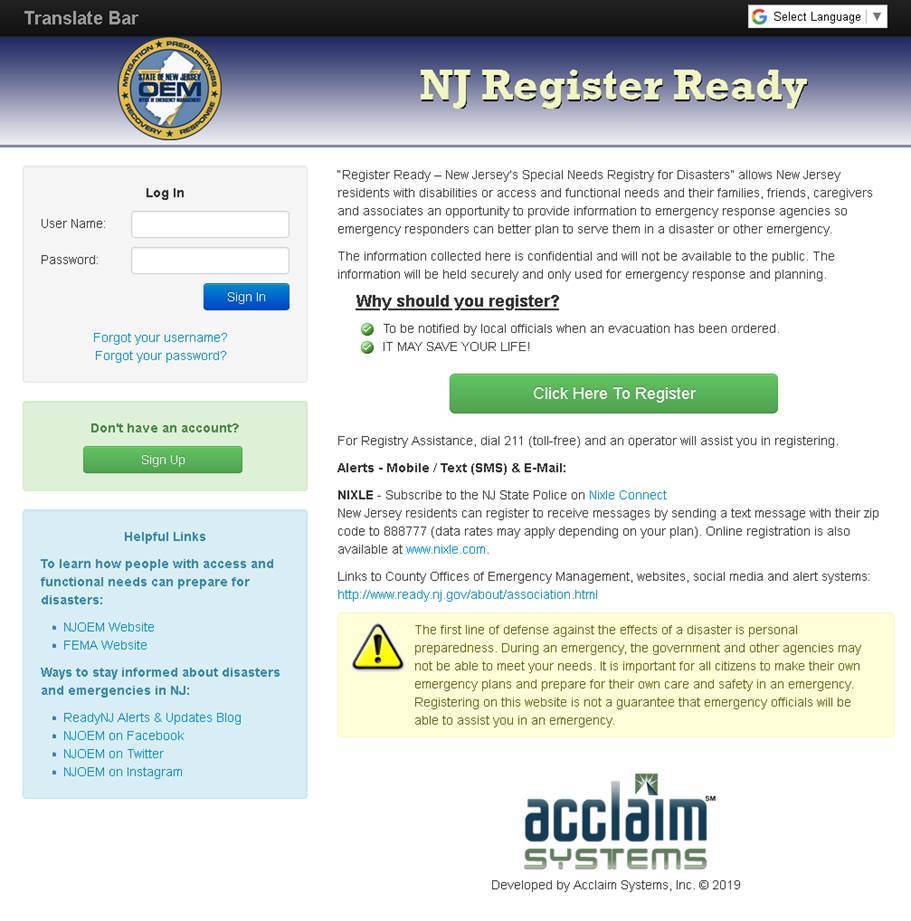 The Old Bridge Recycling Center is open on Tuesdays and Thursdays from 7AM to 3PM and on Saturdays from 8Am to 12PM. More information on our services at oldbridge.com/recycling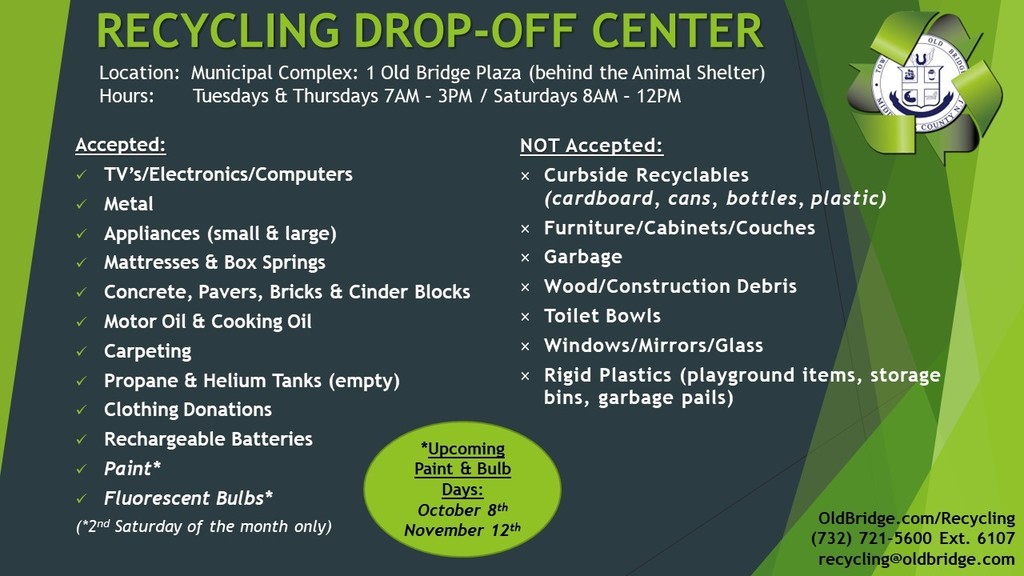 Yearly parking permits have been extended until October 30th at no charge. Tickets will not be issued for yearly parking permits at this time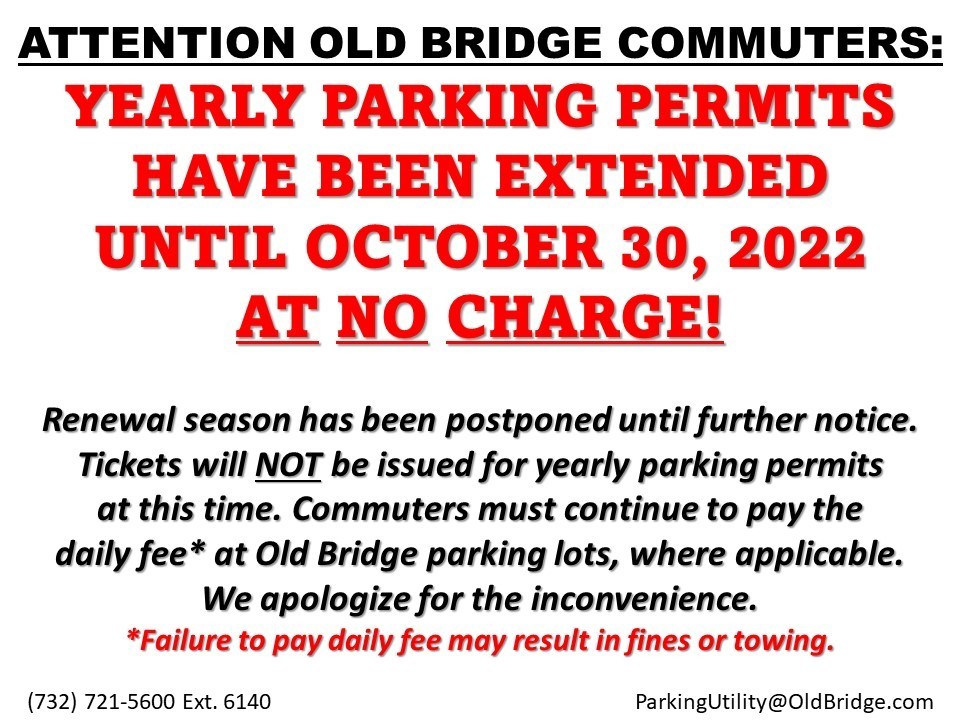 We are currently seeking a Zamboni driver for the John Piccolo Ice Arena. To apply for this position, and to see other available positions in the township, please visit oldbridge.com/employment

Tonight's meeting of the Old Bridge Township Zoning Board Meeting will air live at 7:30PM on OBTV15, Fios 22, the OBTV Streaming App and on our YouTube Channel Live stream the meeting here:
https://www.youtube.com/watch?v=qPWK2TjnWq4

The eighth annual Jessica Uveges LoNigro Community Blood Drive will be on Saturday, September 17th at the Old Bridge High School Grade Nine Center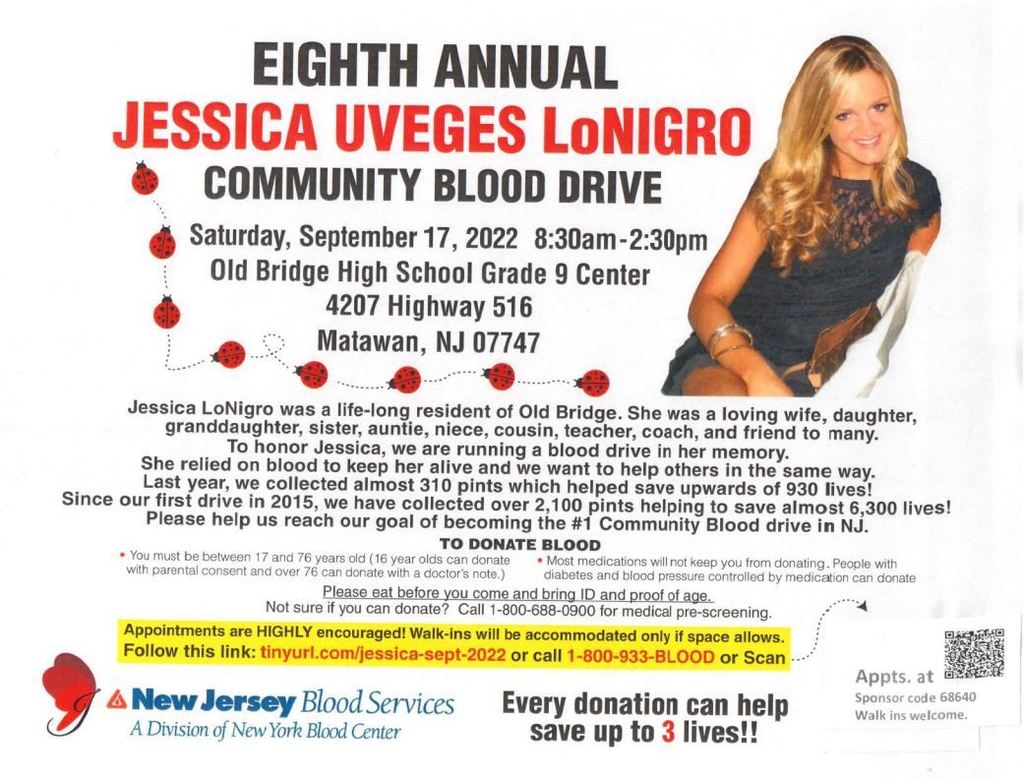 TV Pickups for Wards 1, 2 and 3 will be on Tuesday, October 11th. Pickups for Wards 4,5 and 6 will be on Thursday, October 13th. This service is by appointment only. More information at oldbridge.com/recycling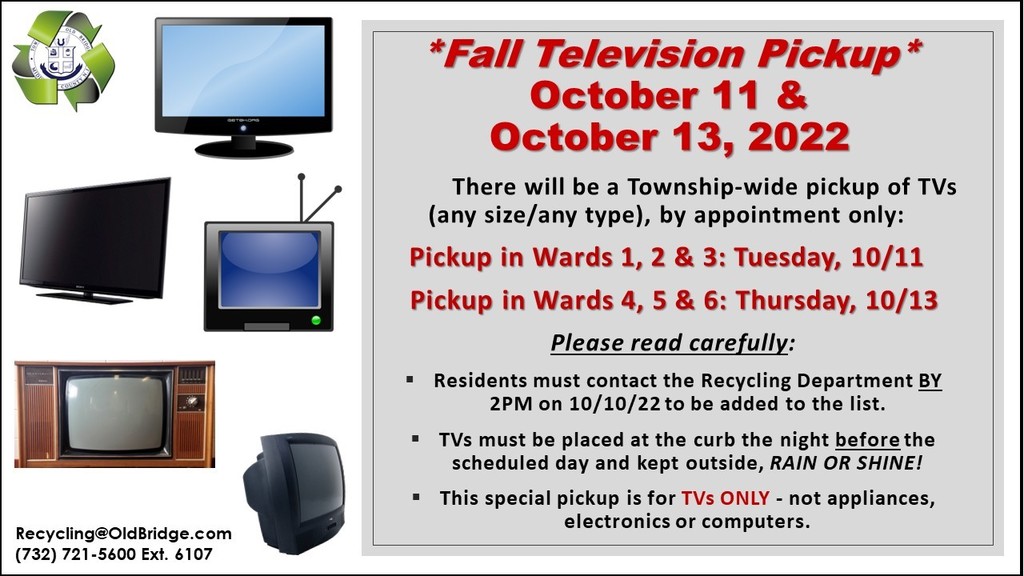 Most Holy Redeemer will be hosting a blood drive at 133 Amboy Road on Thursday, September 22nd from 1PM to 7PM. Please scan the QR code down below for more information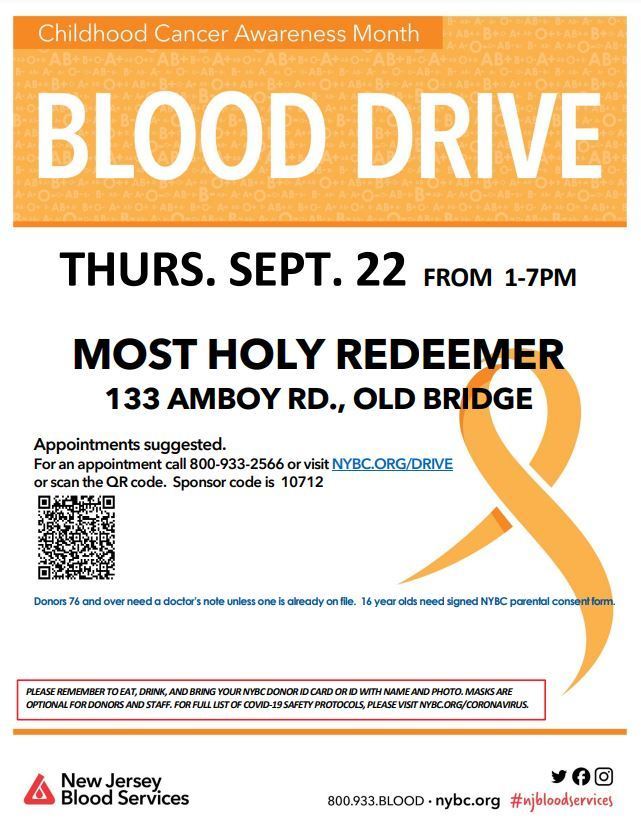 Mayor Owen Henry and Old Bridge Township commemorate the 21st Anniversary on the September 11th Attacks and remembers all of those, including the 15 Old Bridge Residents, who lost their lives that day Watch the ceremony here:
https://www.youtube.com/watch?v=KutcwGHk84k

Street sweeping in Ward Six will end this week. Sweeping in Ward One will start on Monday, September 19th. Please remove any obstructions from the road and park in the driveway whenever possible